Ull tofflor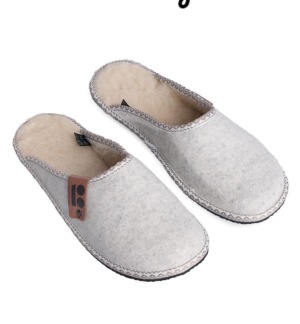 Pris:
349 kr
Inkl. 25% Moms
Art.nr:
P1894982
Antal:
OmaKing tofflor är gjorda av lätt naturlig filt och linneullfoder för att hålla fötterna varma. Handgjorda tofflor är också perfekta för en gåva.

Tofflor är 100% lammull.
Tofflor har en flexibel och non-slip gummisula.

För varje par tofflor som säljs går en euro till "Barnens pastellstiftelse i Võru län".

Håll tårna varma, ditt hjärta blir varmt!

Skiv din storlek (37-38, 39-41, 42-43) i kommets i din beställning.

---------------------

OmaKing slippers are made of light natural felt and linen wool lining to keep your feet warm. Handmade slippers are also ideal for as a gift.

Slippers are 100% lamb wool.
Slippers have a flexible and non-slip rubber sole.

For each pair of slippers sold, one euro goes to the 'Children's Pastel Foundation of Võru County'.

Keep your toes warm, your heart will stay warm!

Mention your size (37-38, 39-41, 42-43) in commets on your order.