Kerr & Napier Ecoffeecup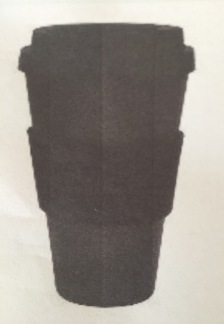 Ord. pris:
159 kr
139 kr
Inkl. 25% Moms
Art.nr:
P1780184
Du sparar:
20 kr (13%)
Typ:
Kerr&Napier Ecoffeecup
Antal:
Varje år använda 100 miljarder enda kaffe koppar slut som deponi. Det är därför den Ecoffee Cup har skapats - en miljömässigt ansvarsfull, återanvändbar kopp.

Tillverkad med naturligt ekologisk bambu fiber, featuring ett silikonband för innehav. Dessa koppar också bestå av en löstagbar bit från locket, så att din innehållet i koppen svalna utan att ta bort hela locket. Det är BPA och ftalat fria samt vara ljus och robust- och, bäst av allt, det är biologiskt nedbrytbart när du är klar med den. Det är också nu helt maskindisk och har ett fullt sealable droppfritt lock. Inte lämplig för mikrovågsugn. Ungefärliga mått: H:15 CM DIA:7 CM. Kapacitet: 400ml, 14oz. kommer i presentation box.

---------------------------------------

Every year, 100 billion use only coffee cups as landfills. That is why the Ecoffee Cup has been created - an environmentally responsible, reusable cup.

Made with natural organic bamboo fiber, featuring a silicone ribbon for holding. These cups also consist of a removable piece from the lid, so that your contents in the cup cool down without removing the entire lid. It's BPA and phthalate free as well as light and robust and, best of all, it's biodegradable when you're done with it. It is also completely machine-powered and has a fully sealable drip-free lid. Not suitable for microwave oven. Approximate measurements: H: 15 CM DIA: 7 CM. Capacity: 400ml, 14oz. Comes in presentation box.