Magnesiumspray stark 100ml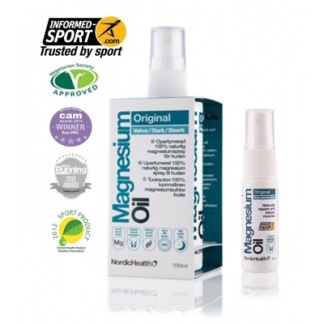 Pris:
269 kr
Inkl. 25% Moms
Art.nr:
P1746300
Antal:
MAGNESIUM SPRAY ORIGINAL 100 ml
100 % naturlig utan några artificiella ingredienser.
Kramper?
Tilltagande smärtor?
Rastlösa ben?
NordicHealth starkaste magnesiumprodukt.
Naturligt magnesium och renat vatten, ingenting annat.
Lämpligt för gravida kvinnor.
Magnesiumet i våra sprayer är naturligt magnesium i magnesiumsaltlösning (100% naturlig magnesiumlösning) som utvinns ur en 1,5 km djup mineralfyndighet.
Man kan säga att fyndigheten producerar det renaste naturliga magnesiumet i världen. Flaskan innehåller 800 doser. 10 sprayningar innehåller minimum 150 mg magnesium.

Bruksanvisning
5-10 sprayningar 2 gånger om dagen, helst på ren hud. Massera lätt på det önskade området. Passar även för barn och gravida.

Vår mineralhaltiga produkts munstycke kan bli tilltäppt. Du får upp den med att skölja den i hett vatten.

---------------------------------------------------------------------------

MAGNESIUM SPRAY ORIGINAL 100ml
100% natural without any artificial ingredients.
Cramps?
Increased pain?
Restless legs?
NordicHealth strongest magnesium product.
Natural magnesium and purified water, nothing else.
Suitable for pregnant women.
Magnesium in our sprays is natural magnesium in magnesium salt solution (100% natural magnesium solution) extracted from a 1.5 km deep mineral resource.
One can say that the deposit produces the purest natural magnesium in the world. The bottle contains 800 doses. 10 sprays contain a minimum of 150 mg of magnesium.

Instructions
5-10 sprays 2 times a day, preferably on clean skin. Lightly massage the desired area. Also suitable for children and pregnant women.

The mineral nozzle of our mineral product may be clogged. You rinse it with rinsing it in hot water.