Schampotvål med grön lera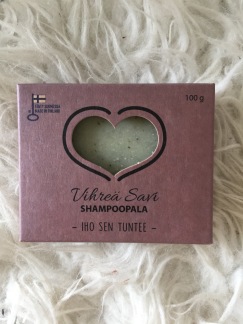 Pris:
99 kr
Inkl. 25% Moms
Art.nr:
P1773576
Antal:
Schampotvål med Grön Lera – Normalt och fett hår

Innehåller oljor med bra kvalitet som vårdar skonsamt hårbotten: olivolja, kokosolja, ricinolja och hampaolja samt grön Angiletz lera som effektivt frigör håret från orenligheter och kemikalier. Schampotvål innehåller öl som ökar volym och hårets naturliga lockighet. Eteriska oljor stärker håret och ökar den naturliga glansen.

När du börjar använda schampot ge håret tid att vänja sig vid den naturliga tvålen med oljor. Det kan ta flera gånger av schamponering innan du märker skillnaden.

-----------------------------------------------------

Shampoo soap with green clay - Normal and greasy hair

Contains oils of good quality that care for gentle scalp: olive oil, coconut oil, castor oil and hemp oil and green Angiletz clay that effectively releases hair from impurities and chemicals. Shampoo soap contains beer that increases the volume and the natural curiosity of the hair. Essential oils strengthen the hair and increase the natural luster.

When you start using a shampoo, give your hair time to get used to the natural soap with oils. It may take several times of shampoo before you notice the difference.